Kat's Kitchen: Garden Guacamole
Today in Kat's Kitchen, we're whipping up a crowd-pleasing guacamole featuring avocado and some basic ingredients you most likely have on hand (or in your garden). Grab some corn tortilla chips or get ready to top off your favorite taco, and let's get into it. 
Ingredient Highlight:
Avocados: the star of the recipe, avocados are an excellent source of healthy fat, a necessary macro nutrient. People with sensitive skin, or those prone to inflammation and breakouts, can especially benefit from their anti-inflammatory properties. Healthy fats also help the skin stay plumped and hydrated. Avocados are also a great source of fiber, helping improve digestion and encouraging the growth of healthy bacteria in the gut- and a healthy skin barrier starts in the gut microbiome. On a micro nutrient level, one large avocado contains about a quarter of your daily intake of vitamins C and E, two powerful antioxidants we talk about a lot that help protect the skin from environmental damage. 
They also contain a wide mix of B vitamins, including over half of the daily intake for B5, which helps balance the skin by reducing redness and inflammation. They also have about 30% of the daily value for B6, which is used to address hormonal balance. If you deal with cystic hormonal acne, or acne around the mouth and chin especially at certain points throughout your menstrual cycle, B6 can help alleviate some of that inflammation. B3, also known as niacin, might be familiar to you, as it's a staple in a lot of skincare. It's another ingredient that protects against environmental aggressors and is especially helpful for the appearance of dull, dry, or aging skin. In one large avocado alone, there's over 20% of your daily value.
Full measurements & prep instructions:
-3 ripe medium avocados 
-2 Roma tomatoes 
-1/2 small red onion (or 1/4 large red onion), diced
-1/2 cup green onion, chopped
-2 tbsp lime juice 
-1 tbsp lemon juice 
-1/2 tsp sea salt or kosher salt 
-1/4 tsp pepper 
Directions:
-Pit and scoop the avocados into a medium bowl and smash with a fork until smooth, leaving chunks if preferred for texture
-Add the rest of the ingredients to the bowl and mix until thoroughly combined
-Serve with homemade corn tortilla chips (baked or fried in healthy oils like avocado) or use to top your favorite tacos, salads, chilis, and more
Notes from Kat:
You'll know avocados are ripe when the stems are still on and you can slightly push in on the sides. I also chose Roma tomatoes as they have less seeds and juice, making for a thicker, smoother texture. You can read more about the health benefits of tomatoes in some of our other recipes here and here.
Guacamole, and avocados in general, can get a bad reputation since they are a healthy fat and higher in calories, but they deserve a lot of love. The health benefits are clear, and this clean recipe is plant-based with no preservatives or additives. Plus, healthy fats are what help us feel satiated for longer, which has been shown to help with weight loss (if that's your journey right now). So never fear the healthy fats, they're labeled "healthy" for a reason.
See you next time in the kitchen!
x KB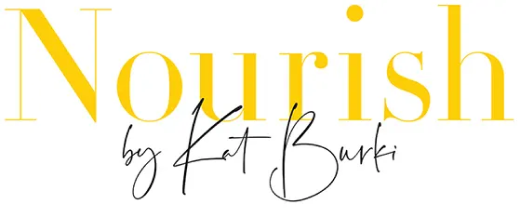 August 22, 2023
---