Kat's Kitchen: Refreshing Tomato & Red Pepper Gazpacho
We're getting warm-weather ready in Kat's Kitchen today with a refreshing, veggie-packed gazpacho. Cool, light and packed with nutrients, it's a great meal for summertime, and an easy way to sneak a bunch of veggies into a new recipe for your kids.
Ingredient Highlights:
Red Bell Pepper: of all vegetables, red bell peppers have some of the highest concentration of Vitamin C, and more so than their yellow and green counterparts, with over 150% of the recommended daily value in just one medium sized pepper. This, in combination with Vitamin E and capsanthin, two other antioxidants, provide powerful protection from UV rays and aid in skin regenerations and repair.
Cucumbers: one easy way to make staying hydrated easier during the hotter months is to eat your water, and cucumbers fall into this category. Hydration is always necessary for regular digestion and healthy skin, but it can be trickier in warmer weather, so cucumbers are a great way to combat this. Additionally, one cucumber serving has about 15% of your daily intake of Vitamin K, which helps strengthen bones.
Tomatoes: another helpful source of hydration, with tomatoes made of about 95% water. Tomatoes also are a good source of fiber, necessary for digestive regularity in addition to hydration. Like red bell peppers, tomatoes contain Vitamin C, with about 25% of the daily recommended value per serving. They also contain anti-inflammatory and antioxidant nutrients, including beta carotene, lycopene and flavonoids. Lastly, folate, a B vitamin, is present in tomatoes as well, which helps complexions through a boost in healthy skin tissue growth.
Full Measurements & Prep Instructions: 
- 2 red bell peppers, tops and seeds removed, halved
- 5 large ripe tomatoes 
- 2 cups English cucumbers, peeled and chopped 
- 1/2 cup green onion, chopped 
- 3 tbsp olive oil 
- 2 tbsp champagne vinegar 
- 1 1/2 tsp kosher salt 
- 1/2 tsp fresh black pepper 
- 1 large garlic clove
Optional: sliced avocado or roasted crunchy chickpeas for garnish
Directions:
- Broil halved peppers for 10 min on a foil-lined baking sheet until blackened
- Remove from the oven, wrap in foil and allow to sit 10 min 
- Once cool enough to handle, peel the skin from the peppers
- Core the tomatoes and score the bottoms
- Add to boiling water and boil for 1 min
- Drain and plunge tomatoes into a bowl of ice water, let sit 3 minutes
- Once cool enough to handle, peel the skin from the tomatoes and coarsely chop
- Add the peeled pepper and tomatoes, as well as the rest of the ingredients, to a blender
- Blend and process until smooth
- Chill for a minimum of 2 hrs 
- Pour into bowls to serve
- Option to garnish with avocado slices and toasted chickpeas
Notes from Kat:
This is the perfect recipe for all of your summer picnics, backyard cookouts and days at the beach. Not only is it tasty and bright, but it's hydrating and nutritious. You can easily double or triple the recipe to make it a sharing dish at your next family or friend get-together. 
Feel free to tweak the recipe, adding other varieties of peppers for spice, tomatillos for a salsa-inspired version, or herbs to take the flavor to the next level. It's a great base recipe to customize to your family's taste and dietary needs. You can also play with garnishes. Toast some stale sourdough for gut-friendly, zero-waste croutons, or elevate a salsa-inspired twist with charred corn. The world is your oyster- and speaking of which, this would make a lovely side for a seaside plate of them.
See you next time in the kitchen!
x KB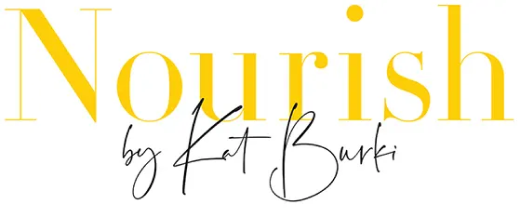 June 21, 2023
---