Kat's Kitchen: Warming Bone Broth
This week we're getting cozy in the kitchen with my bone broth basics guide. Give your gut and skin a boost while sipping on some protein-packed, comforting goodness. Plus it makes use of all the scraps left over at the end of an animal, making sure nothing goes to waste.
Ingredient highlights:
Your choice of animal bones (beef, chicken, turkey, or pork): Bone broth packs a lot of big benefits into a small amount of calories, making it a great snack or post-meal digestif. It's rich in many of the nutrients needed for our own bone health, including calcium, magnesium, and potassium. Plus it's good for your gut, thanks to the gelatin in the bones which aids in digestion. Additionally, the amino acids found in the broth, including glycine and arginine, helps to fight inflammation. Collagen is not only important for healthy skin, but it helps keep joints healthy and strong too. Finally, the protein in bone broth can support the production of immune-boosting antibodies. All in one savory little bowl.
Full measurements and prep instructions:
- Variety of meaty and joint bones (see below for recommendations based on animal type), roasted at 450 degrees until browned
Chicken: whole chicken, frame of chicken, or chicken back and wing tips
Beef: knuckles, shanks and oxtail
Pork: ham hocks, neck
Turkey: frame of turkey, turkey back, wings
- 2 tbsp apple cider vinegar
- Optional aromatics: onion, carrot, celery, garlic, thyme, rosemary, sage, oregano, bay leaves
- Salt and pepper to taste
Directions:
- Add bones to a large stock pot and fill with enough water to cover all the bones (the water will reduce as it simmers)
- Add optional aromatics, salt and pepper to taste, and apple cider vinegar
- Bring water to a boil then immediately reduce heat to a simmer
- Continue simmering on the stove for at least 10 hours on the stove (adjust if using a pressure cooker), skimming the top as necessary
- Strain while warm and store in refrigerator for up to a week, or freeze for up to a year
Notes from Kat:
The longer you simmer this broth on the stove, the more flavorful it becomes and the more collagen is released. While ten hours is the minimum, many stick to around 12 hours while some prefer day-long infusions. 
Once refrigerated, it is normal for the collagen to separate and sit on the top. If you already skimmed grease off the top of the broth while hot, just collagen should be left. Reheat the broth normally and the congealed collagen will dissolve back into it. 
If freezing broth, place in the refrigerator once ready to use and let it defrost there. Then use it within a week. If you're wondering where to even get animal bones, check out your local butcher or farmer's market! Store-bought bone broth can be expensive so this is a better-budget option, plus you can tweak the aromatics and salt levels to your preference. 
Happy sipping, stay warm out there! And keep an eye out for some more Nourish knowledge on the benefits of collagen…coming soon!
See you next time in the kitchen.
X KB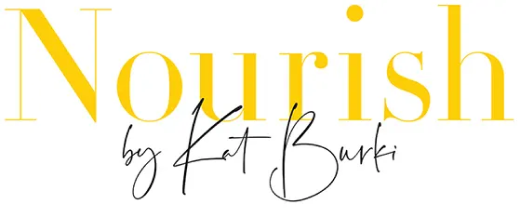 January 03, 2023
---